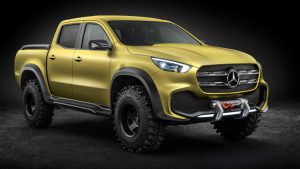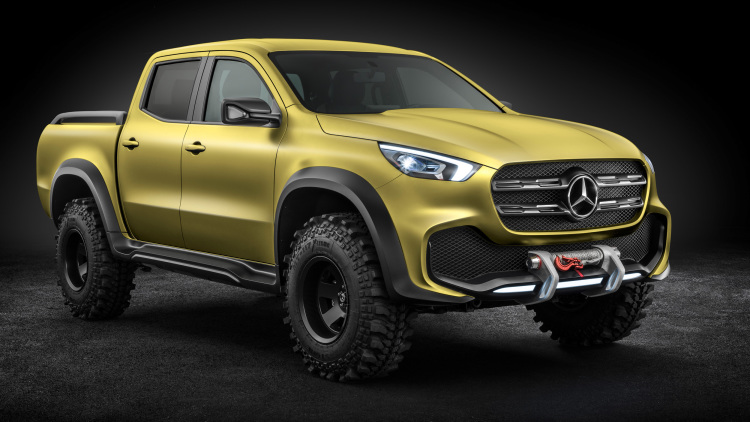 Mercedes Benz caused quite a storm in media circles with the unveiling of X-Class ute late last year, followed by a promotional tour of one of its concept vehicles in Australia and New Zealand earlier this year.
Well known for its high-end cars and SUVs, Mercedes is now entering the ute market with what it describes as the "world's first premium pickup". Based on the Nissan Navara, the X-Class has been designed to deliver the very best in comfort, convenience, safety and technology.
The new Mercedes ute turned heads in Australia and New Zealand earlier this year after a concept vehicle was flown in for a number of promotional activities ahead of the official launch in 2018.
While no official pricing has been released by Mercedes yet, early signs indicate that the X-Class may be surprisingly affordable. The German car manufacturer has admitted that it has "got to be competitive" as it seeks to make a dent in the Australia and New Zealand markets and prices are expected to be in line with class leaders like the Toyota Hilux, Volkswagen Amarok and Ford Ranger.
The promise of Mercedes-class quality and luxury at a reasonable price tag could shake up the ute market and what we've seen so far suggests that this could be an exciting addition to an already competitive sector.
With no talk of a single-cab model as yet, Mercedes looks to be aiming at motorists who want all the power of a ute with the very best in luxury features. Under the bonnet there will be a choice of turbo-diesel four-cylinder and V6 engines combined with 4MATIC permanent all-wheel drive.
Mercedes has developed five-link rear suspension with coil springs specially for the X-Class, which will also feature a transfer case and reduction gear, along with a pair of fully-locking electronically-controlled differentials.
The X-Class will also pack plenty of grunt, with the ability to tow up to 3,500 kilogrammes and a tray payload of 1,100 kilogrammes; about average for higher-end pickup trucks. The exterior sports some nice lines and a chunky appearance that should go well with would-be buyers.
It is the interior, however, where the X-Class really comes into its own. Despite promising a competitive price tag, Mercedes-Benz has not scrimped on luxury inside the cab. Premium leather upholstery, high resolution displays, and aluminium and wood finishing come together to deliver the standard of quality we expect from Mercedes-Benz.
Mercedes is also aiming high on the technology front, promising "the most modern control and display concept in the segment", as well as the very latest in safety features.
At West Coast Suspensions, we are committed to providing the very best suspension solutions and lift kits in Perth and surrounding areas. If you are looking to repair or replace suspension on your 4WD or truck, contact us today for a free, no-obligation quote.